Top 5 Motorcycle Horns for Maximum Impact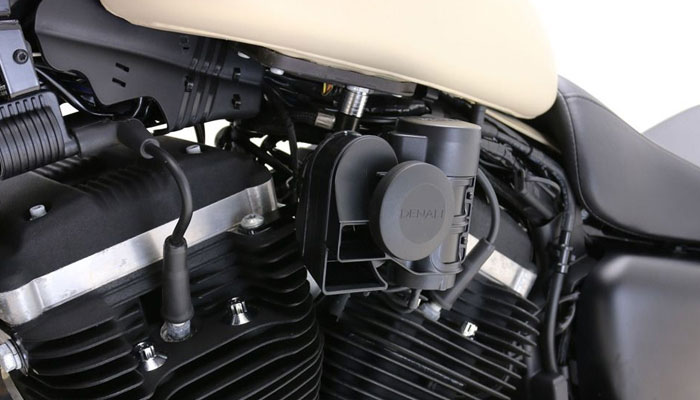 Have you ever been embarrassed by the meek squeal of your motorcycle horn as other drivers in their soundproofed cars don't even bat an eye?
Installing a powerful horn is the solution, but it's essential to keep highway codes and local laws in mind when choosing one. We've reviewed the top ten horns to help you find the right one for your bike.
Hella Supertone Black/Red Horn
One of the most famous horn upgrades in the automotive community, Hella Supertone Black/Red Horns look mean and command attention. They're designed to be bigger and louder than the wimpy stock horns found on most vehicles and come with mounting options for easy installation.
This model features dual 12-volt horns that are powerful and attention-grabbing and comes with a red protective grille for added style. Its 118 dB output alerts nearby drivers to your presence on the road.
The horns use a unique system to create a potent and concentrated sound. They work on the principle of a mechanical bell, with a steel diaphragm driven by varying resonances to produce high or low tones. They're also constructed for durability and withstand the elements.
Another factor to consider when choosing Hella horns is their compatibility with your vehicle's make and model. Some horns are designed as a direct replacement for the factory horns, while others require minor modifications or wiring changes to install. Assess your comfort level with vehicle modifications and consult a professional installer if necessary.
While Hella horns are famous among car enthusiasts, evaluating their pros and cons is essential before purchasing. It would help if you considered factors such as the installation process, noise output and tone, and durability and weather resistance. Once you've considered these factors, you can choose a horn that will meet your needs and budget.
Split Dual-Tone Air Horn 
The DENALI SoundBomb Split Dual-Tone Air Horn makes sure you're heard with ear-splitting 120 decibels of power (four times as loud as your stock motorcycle horn) in a compact two-piece design that can be installed on bikes with limited space. The blacked-out housing and compact design allow these horns to disappear once installed practically. The compressor and acoustic unit are separated by a 48-inch long heat-resistant air hose, enabling them to be mounted in tight locations like behind the fairing or under the seat.
Mounting a horn is always a challenge for the average biker, whether using a single or dual horn because they take up a lot of valuable real estate on your fairing. Dual horns are even worse because they require mounting two trumpets that need to be pointing forward. Even simple flat horns like the Hella Supertone "Pancake" horns aren't easy to fit because they're too wide to work in many locations and require custom fabricating or figuring out an esoteric mounting solution.
This horn from DENALI solves both problems and best option we've come across for Triumph bikes with small space constraints. It also gives the Automotive Discount Code.
FIAMM 74100 El Grande
Fiamm is a company that has been in business since 1924 and manufactures horns for various vehicles, including trucks, buses, and other industrial vehicles. They offer stylish electromagnetic, electro-pneumatic, and air horns among their products. They also produce horn kits that include everything you need for installation, such as an air valve, relays, and wiring.
Among the most popular models they produce are their El Grande twin electric horns, which come with stylish red caps and chrome grills. These horns provide 110 dB of loud and harmonious sound and are suitable for many vehicles. They also feature corrosion resistance and an aluminum-tone disc that creates the sound.
These horns are easy to install and can be wired directly into your existing vehicle's horn wiring. Remove the five connector pins that hold the stock horns under the plastic radiator top cover and then pull them up and out. Then, unscrew the bolt that holds the horn arm piece onto the body and unplug the power wire connector. The horns are then easily installed, and you're ready to blast your presence on the road. If you're looking for a powerful and harmonic horn, the 74100 El Grande may be the perfect choice. Use the Saving Gain Discount Code if you are looking for the best horns at an affordable price. It has multiple options to find the perfect one for your needs.
V-Twin Dual-Tone Air Horn
These horns Easily double the output of your factory motorcycle horn with this Dual-Tone Air Horn. This kit uses a compact air compressor to power two small plastic horns. The dual tones are much more noticeable than the single tone of the OEM horn and should get the attention of even the most distracted drivers. Unlike other replacement horns, this one requires no external relay and runs off the same positive and ground wires that activate your stock horn.
This horn kit is based on the DENALI SoundBomb compact horn, which produces an earsplitting 120 decibels and is four times louder than a standard motorcycle horn. Its unique design separates the compressor from the acoustic unit and allows it to fit in tight places where more prominent horns would be impossible. Electrical systems using the CAN bus can also be used.
The SoundBomb is much more compact than the traditional round disc horns but still requires some brainpower to mount. Usually, the best mounting location is near the front of the bike, and the trumpet openings need to be pointed forward. The kit comes with a wiring harness to connect the compressor to the existing horn circuit and an adapter for your horn button, which is necessary for proper operation.
A good quality horn kit will include the mounting brackets, which can be mounted to a fairing or on a frame above your headlight. Check out our horn mounting tutorials for help if you need an excellent mounting solution. DENALI Electronics Promotion Codes has multiple options on horns.
Screaming Banshee
If you want to ensure drivers hear your motorcycle from blocks away, check out this aftermarket horn. According to its manufacturer, the Screaming Banshee horn produces a 132+ decibel blast that can be heard up to three blocks away. It also features a visual alert system that pulses the bike's high beam headlight to help you stay visible. Installing and drawing power directly from the bike's battery is easy.
In normal mode, it's a simple tap to activate the stock horn, but when a rider needs to sound the alarm quickly and clearly, they can hold the horn button down for between 1/4 and 1/2 a second (selectable). This unleashes a 139-decibel air horn and causes the pulsing high-beam light feature. It's loud enough to wake the dead, according to its creator, and he claims it's also effective in helping distracted drivers see you.
The Screaming Banshee also comes with a wire harness that can be mounted underneath the handlebars or in the frame. The kit includes a wiring harness, mounting bolts, and electrical connectors and can be installed in a couple of hours. The company also offers a separate mount to protect the wire harness from inclement weather and potential static arcing.
Perceive is the aptly-titled sophomore album from Italian death metal band Screaming Banshee, and it's a riff-and-music-packed slab of death metal. The band's detailed songwriting and masterful technical riffing are on full display here, as every track barrels headlong through a wild gauntlet of catchy riffage before deftly transitioning into moments of beautiful melodicism. With the help of Luca Ficorella (Fleshgod Apocalypse, Hour of Penance), Stefano Morabito mixed and mastered the album at 16th Cellar Studios in Rome.
Conclusion
Finding the perfect motorcycle horn is essential for any rider looking to improve their safety on the road. You can alert other drivers to your presence with the right horn and avoid potential accidents. Don't overspend on a subpar horn – save money and get the perfect motorcycle horn for your needs by checking out Saving Gain. Their selection of high-quality funnels at affordable prices is sure to have something that will meet your requirements. Stay safe on the road and save money by shopping at Saving Gain for the perfect motorcycle horn.
Tags :
Automotive
car accessories
DENALI Electronics Vouchers
Savinggain
Savinggain Blogs
Vehicle Accessories