Upgrade Your Setup With These Essential Gaming Accessories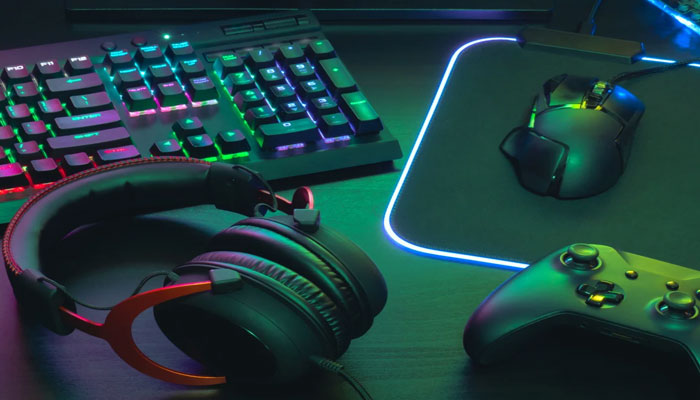 A gamer needs an impressive gaming setup to enjoy a fun and immersive experience. Besides building a PC that can run graphic-intensive games, gamers should get the right accessories to enhance their gaming experience.
This includes a gaming mouse and keyboard, making navigating the game and typing easy. A large mouse pad is also essential for a comfortable gaming experience.
Dual Monitors
Whether you are a gamer, a developer, a streamer, or a content creator, a dual monitor can make all the difference. It lets you have everything you need on-screen without minimising windows or scrolling back and forth.
Gaming monitors are built with high-resolution screens, fast refresh rates, and low response times. They can also have unique features like HDR, which enhances colours and contrast, or extra USB ports for connecting other devices.
Setting up a dual-monitor setup is quick and easy with Windows or macOS. You must go into your system preferences and select a display arrangement option. Then you're ready to play. Choose a monitor with IPS frames to get the best visual quality for your gaming experience. These displays have thin bezels that are easier to align for a seamless appearance.
Gaming Chair
A gaming chair is essential for anyone who spends a lot of time playing video games. They are designed to be more comfortable and ergonomic than standard office chairs, with features like lumbar support and adjustable armrests. Many also come with RGB lighting, adding a fun touch to your gaming setup.
A good gaming chair will help you perform better in-game and will reduce strain on your body, which can lead to back pain, neck stiffness, and headaches. You can sit in it for hours without feeling uncomfortable, so it's a worthwhile investment for any gamer.
This racing-style chair has a breathable fabric cover over synthetic PU leather so it won't get sticky after long gaming sessions. It also has adjustable height and reclining functions to customise it to your needs.
Headphones
For many gamers, a good pair of headphones is essential for maximising the immersion of their gaming experience. Headphones allow you to block out surrounding noise and isolate yourself from your virtual avatar, which can make a big difference when blowing Ballknocker74's brains all over the wall or making it to the top of the leaderboards.
The SteelSeries Arctis Nova 7 Wireless is the best gaming headphones in this price range we've tested. Their wireless USB dongle provides low latency and works with PlayStation consoles, though incompatible with Xbox. Their companion app includes a graphic EQ with sound presets for customisable audio.
Another great option is the Nuraphone. This bizarre-looking headphone sounds fantastic and has an optional Gaming Mod that converts them to 3.5mm wired operation (compatible with all consoles and PCs). It also includes one of the best boom mics for voice clarity.
Mouse
Having the right gaming accessories can elevate your gameplay and overall experience. These include gaming mice, keyboards, headsets, and monitors. Gaming accessories can also help reduce stress and discomfort from prolonged gaming sessions.
A mouse is an essential PC gaming accessory, as it can make or break a gamer's experience. Choosing a comfortable mouse with customisable buttons and RGB lighting is critical for personalisation.
A large mouse pad is another necessary gaming accessory, providing a surface engineered to work with your mouse's sensor. It may even feature friction-reducing finishes and textured backing to increase precision and comfort. It can also provide additional support for wrists to reduce strain from extended gaming sessions. This can help prevent RSI, which is a common problem for gamers. This can be especially helpful for those who play a lot of first-person shooters.
Keyboard
A gaming keyboard is an essential accessory for gamers because it allows them to input commands into their computer during matches. Unlike standard keyboards, gaming ones are designed to be more durable and have advanced features, like anti-ghosting and customisable macros.
A good gaming keyboard should also be comfortable to use, and this one from Razer is an excellent option because it has backlighting customisable buttons, and a cushioned wrist rest. It's even available in several different colours, so you can match it to your gaming setup.
Another excellent gaming accessory is a mouse pad, which helps reduce friction and provides a smoother experience. This large mouse pad from Corsair is designed to be used with high-end gaming mice, and it has a 16,000 dpi sensor, which gives you precise control. It also has a soft, waterproof wrist wrap in multiple colour options.
Controller
The best gaming accessories improve comfort, utility, and performance so gamers can play at peak precision and accuracy. They also prevent health issues such as RSI by providing ergonomic devices like gaming gloves and keyboard mats that protect forearms from repetitive motion.
A quality gaming controller makes aiming in first-person shooters easier and controls complex manoeuvres in real-time strategy games. You can find a variety of gaming controllers with different features and functions, including LED illumination for low-light gameplay.
Other gaming accessories include a mouse pad that prevents the mouse from sliding across the desk and a USB hub that provides more ports and better cable management. You can even find gaming accessories that look more appealing and match your rig. The holiday season is the perfect time to find a wide range of upgrades that add functionality, value, and aesthetics to your gaming setup, and don't forget to look for potential discounts with the Saving Gain to make your gaming accessories even more affordable
Mouse Pad
Whether you're playing racing or action games, a steering wheel can enhance the experience and help you practice your speed and reflexes. They're accommodating for gamers who want to play competitive titles with friends.
A gaming mouse pad is an essential PC accessory that helps you excel in games with precision and control. It has a durable design features a non-slip base to ensure stability during intense gameplay. It also comes in a variety of colours to match your gaming setup and desktop.
This mouse pad has a micro-texture cloth surface optimised for all sensitivity settings and sensors. Its anti-slip rubber base also offers excellent durability. Moreover, it has RGB lighting that's bright and customisable. You can even use it for work-related tasks too! You won't regret buying this accessory. This one has a massive 450 x 420 mm surface area, and you can get it at a discounted price using the Electronics discount code.
Desk Fan
Gaming can be a fun and engaging activity that many people enjoy. However, having the right equipment ensures a great gaming experience. From improving comfort to making your setup more professional, these accessories are vital for any gamer.
One of the most essential gaming accessories is a desk fan. This can help keep your area cool while you game, and it can also be used to circulate air in the room.
Another helpful accessory is a surge protector. This can protect your computer from sudden jolts of electricity that can damage it. It can also save you money on expensive repairs. This is especially important for gamers who often play long sessions. A surge protector can also be helpful for streamers who want to make their videos look better. It can also give their setup a unique look. Lenovo Coupon Codes offer more than gaming accessories if you wish to upgrade your gaming experience. It has many options of products at affordable prices.
WD Drive
One of the most essential gaming accessories is a reliable external hard drive. It's a great way to back up your files and keep them safe from computer glitches or hackers.
WD's hard drives come in different colours to help you identify the right one for your needs. Green drives are eco-friendly and consume less power. Black drives are designed for gamers and other high-performance applications. Red drives are NAS (Network Attached Storage) ideal for home networks. Purple drives are used for surveillance systems, and Gold is an enterprise-grade hard drive.
Once you've installed your WD drive, open the WD Discovery tool to manage it. To do this, go to the WD website and click on Software & Downloads. Follow the prompts to install the device.
Microphone
If you're a gamer, you know that accessories can make or break your gaming experience. They can help you stay comfortable, improve your performance, and even make you more productive.
The best accessories for gamers have hundreds or even thousands of five-star reviews from real gamers who can't get enough of them. These gaming essentials are just what you need to take your gaming to the next level.
If you're a streamer or like to chat with friends online, a good microphone is essential for crystal-clear audio. This one from Razer is lightweight and portable, so it won't take up a lot of space on your desk. It also has a built-in noise reduction feature and comes in various colours to customise it for your setup. It has four different polar patterns for the ultimate in versatility.
Conclusion
Upgrading your gaming setup with essential accessories can significantly enhance your gaming experience. With the right gaming mouse, keyboard, headset, and controller, you can improve your accuracy and response time, communicate better with your team, and enjoy a more immersive gaming experience. And the good news is you don't have to break the bank to get these accessories. You can save money by using coupons and discounts from websites like Saving Gain while still getting the best gaming accessories out there. So why wait? Upgrade your setup today and take your gaming to the next level!
Tags :
Electronic Accessories
Electronics Coupons
Gaming Accessories
Lenovo AU Promo Code
Savinggain
Savinggain Blogs