The Best Foldable Phones of the Year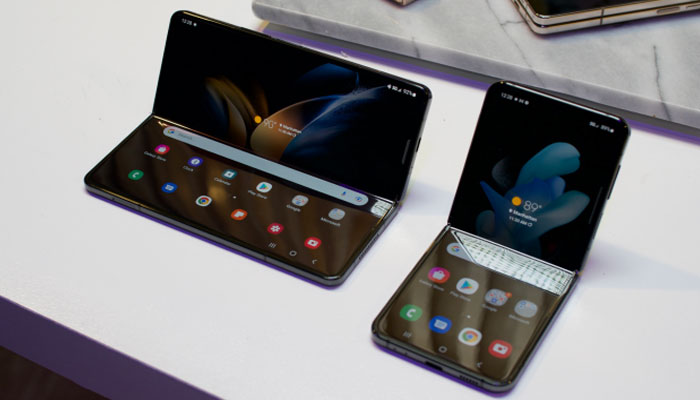 Samsung's Galaxy Z Fold 5 stuns onlookers whenever you unfurl the large inner display. The phone feels like a tablet in your hand and offers the productivity benefits of an extra display.
Its one-touch multi-window feature and S Pen support make it the best folding phone for work. Its camera hardware has also received plenty of improvements.
Samsung Galaxy Z Fold 5
Samsung has taken its time with this foldable series, and while it may not have the best overall specs of the year (that honour belongs to the Motorola Razr Plus), it's still a premium phone with some significant improvements. It's much faster than the Z Fold 4 thanks to a new Qualcomm Snapdragon 8 Gen 2 for Galaxy chip. That means gaming, apps, and general multitasking feel incredibly responsive. It's also a little lighter and more compact.
Samsung's software experience continues to be a strong selling point, and the Galaxy Z Fold 5 offers some nice enhancements that make it easier to use when unfolding. For example, Android 13's taskbar feature lets you keep up to four of your most-used apps on the screen at any moment. The folding version of the app menu makes it easier to move between them, and you can drag and drop apps into or out of the taskbar as needed.
Its cameras are also improved, with the primary and ultra-wide cameras offering plenty of detail and low noise in photos, even in challenging light. The Z Fold 5's quad-array image signal processor is better at keeping details clear than the Pixel Fold's single-image image processing engine.
That's a lot of impressive work for a phone that wasn't supposed to be finished until 2023. Now, though, it's entering a more competitive foldable space with Google's Pixel Fold and Motorola's Razr Plus, and Samsung will have to do more than nip a few millimetres and put in a new chip next year if it wants to retain its leadership position in this emerging category.
OPPO Find N2
The OPPO Find N2 Flip is the first true challenger in the clamshell foldable category, going toe-to-toe with Samsung's market-leading Galaxy Z Fold 4 and outperforming it on several fronts. It's a stylish, premium device with a tremendously sizeable foldable display almost as broad as a flat smartphone screen. It also has a large cover screen that does more than show notifications, with clever widgets and camera tricks, and it's one of the best folding phones to use its cover screen as a functional feature rather than just a gimmick.
Like other new phones, the OPPO Find N2 Flip needs some quirks, including an erratic fingerprint scanner that frequently gets confused and only sometimes recognizes the correct finger. The display is also quite dim compared to other phones at full brightness, but it's a minor issue for a phone that looks so good.
Oppo rates the hinge and screen for 400,000 folds, so it should last a long time as long as you don't abuse it too severely. However, it doesn't have the IP rating of Samsung's foldable, and there's no indication if it will be water-resistant.
Despite being billed as the foldable flagship without compromise, it feels differently regarding specs. It uses a mid-range MediaTek chipset rather than the top-end Snapdragon 8 Plus Gen 1 chip in Samsung's folding phones and the non-foldable 2023 flagships. It's still competent, though, and it should easily keep up with the demands of most users. It has a 32MP hole-punch selfie camera centrally embedded in the interior foldable display. It's also a dual-nano SIM and eSIM phone with support for up to 16 languages.
Honor Magic Vs
The Honor Magic Vs is a phone that should have been unveiled later. Its tablet-style screen is large enough for some tasks, but a lack of features makes it feel like an awkward hybrid. For example, there's no option for a traditional app drawer. Instead, you must manually arrange apps on a series of home screens. This may be fine for many users, but it will be jarring for people used to the standard Android interface.
The other big problem is software. The primary camera takes good photos, but the folding form factor only gets a little support from popular apps. You can run apps in split-screen multitasking on the foldable display, but the taskbar on the bottom of the screen obscures part of the app. The Magic Vs also can't prop the screen open at different angles, which is a shame considering its lopsided camera module.
Aside from these issues, the Magic Vs is a solid book-style foldable. Its 5,000mAh battery lasts well and can charge up to 66 per cent in 46 minutes using the company's SuperCharge tech. Its internal Snapdragon 8 Plus Gen 1 chip isn't cutting edge but offers plenty of gaming grunt.
The Magic Vs is a decent choice for those who want to try out a foldable but don't want to spend more on the Z Fold 4 or the upcoming Google Pixel Fold and Samsung Galaxy Z Fold 5. It's also worth remembering that even flagship phones suffer from durability problems, so it's best to use a case at all times with any device this expensive. Additionally, look for potential discounts with the Saving Gain Discount Code to make your purchase more cost-effective.
Google Pixel Fold
The Pixel Fold is Google's take on the foldable, and it's an impressive piece of hardware that doesn't suffer from any of the significant compromises other foldables have. The hinge opens and closes without noise, supports up to 180 degrees (though a stop just shy of the whole opening means you'll need a little extra force to get it all the way), and doesn't leave a gap between the inner and outer display. The Pixel Fold also has good features thanks to its twin displays, including the ability to run two apps side by side and an engaging live translation feature that uses both front and rear cameras to translate speech into another language on the fly.
The $1,800 Pixel Fold has a premium feel and is one of the most durable foldable phones you can buy. It runs Android 13, which is well optimized for the screen, and will receive software updates for at least five years, or three years, plus two significant upgrades. That includes the new Fold-specific features in Android 14.
Hardware-wise, the Pixel Fold is a step up from other flagship smartphones. It has the same robust Tensor G2 chip found in the Pixel 7 series, 12GB of RAM and up to 512GB of storage. The primary camera is the standout visor-style lens that makes Pixel devices instantly recognizable, and this time around, it has Google's impressive Pixel Look photo and video processing, as well as an ultra-wide-angle and 5X periscope style zoom.
The only negatives to the Pixel Fold are the need for a headphone jack and the inability to install other Android apps besides those available through Google's AppGallery, which is a minor frustration. Still, it takes time to beat if you're looking for the best folding phone of 2023. And remember, when making your purchase, keep an eye out for potential discounts with the Electronics discount code to get the best deal on any Electronics product.
Motorola Razr Plus
Motorola's first stateside foldable is a lot of fun. Its most significant selling point is its outer 3.6-inch display, which can run virtually every app on your phone. Motorola's software allows you to decide whether apps transition to the cover screen automatically or with a tap, and you can also control how they transition between the main screen and the display. Playing a podcast in Pocket Casts or calculating your portion of a split bill in Telegram feels right at home.
When closed, the Razr Plus's two halves cleave together like pursed lips, a more sleek look than Samsung's Galaxy Z Flip 4 and its visible gap. Its hinge is also surprisingly durable, and the Razr Plus doesn't suffer from skewing or colour issues plaguing other foldables.
Unfolding the Razr Plus reveals an enormous pOLED display that can do everything you'd expect from a 2023 flagship, including showing notifications and acting as a viewfinder for its cameras. It even fits a full built-in keyboard and lets you reply to messages or view essential notifications without unfolding the device.
The Razr Plus doesn't have the best cameras for a modern smartphone, but they're adequate in most situations. Its battery life is below average but still better than most other phones with comparable specs. It's also one of the few foldables that supports repairability, and it's eligible for a free display replacement from any uBreakiFix location in the US. Despite its flaws, the Razr Plus is an excellent choice for anyone looking to test the latest foldable technology. For $999, you can use the Lenovo Voucher Code to get a considerable discount.
Conclusion
Finding the best Foldable Phones on the market can be a daunting task. However, by doing thorough research and taking advantage of deals like those offered on Saving Gain, you can save money while still getting a high-quality product that meets all your needs. Suitable Foldable Phones are waiting for you, or you need a reliable computer for everyday use. So why wait? Explore your options today and find the perfect Foldable Phones for your lifestyle and budget.
Tags :
Electronic Accessories
Electronics Promotional Code
Foldable Phones
Lenovo AU Promo Code
Savinggain
Savinggain Blogs